About
Unicentro is a leading chain of multi-stores in Paraguay, renowned for its wide variety of products and personalized customer service. In the retail field, Unicentro stands at the forefront of fashion and trends, catering to a diverse range of markets and targets.
With a focus on excellence and innovation, Unicentro has established itself as a reliable and appealing choice for the most discerning consumers.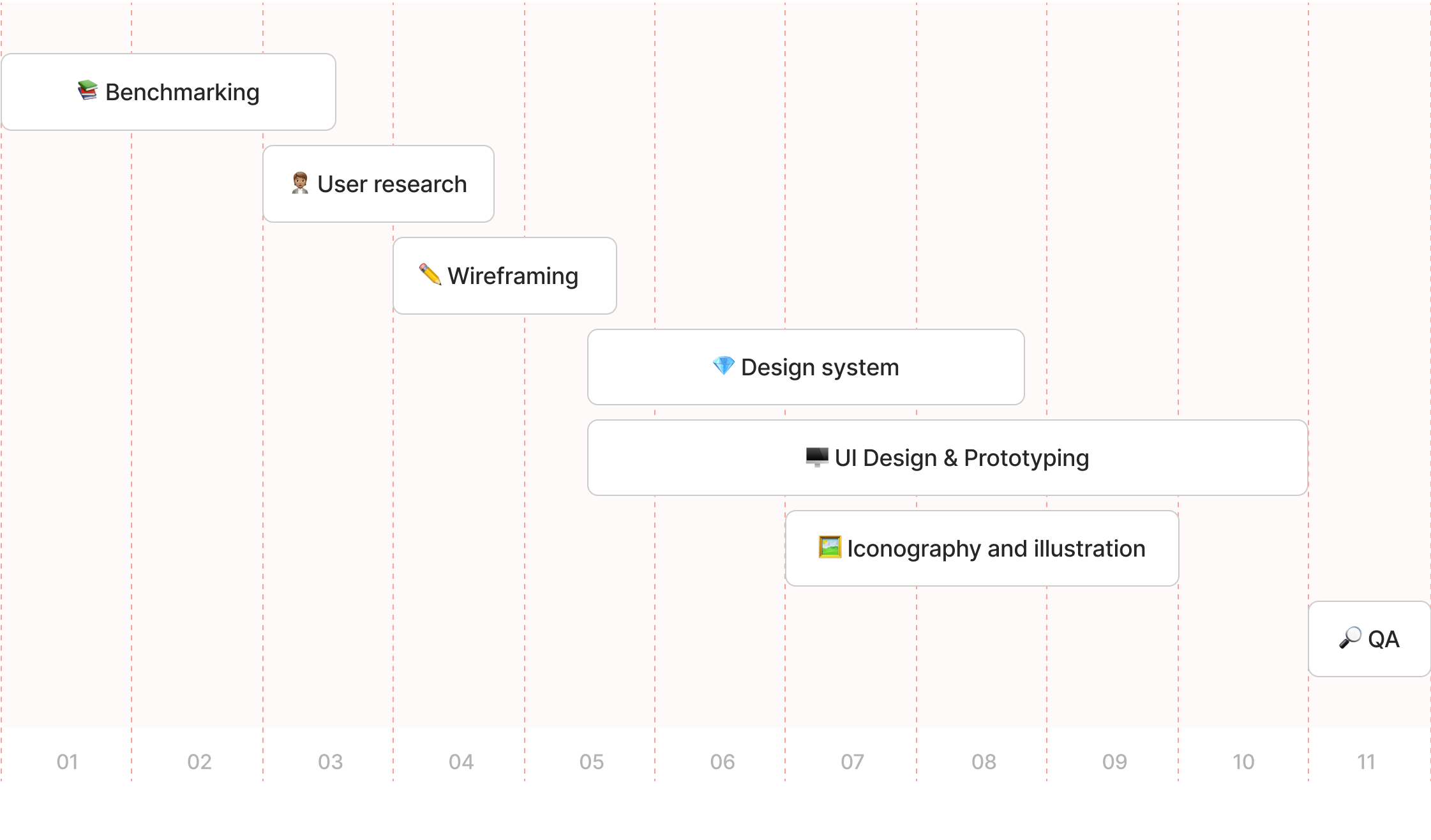 The challenge
Our greatest challenge was to enhance the shopping experience on the marketplace, with a strong emphasis on key points such as the product search and filtering process.
To achieve this, we focused on improving department identification, adding more precise cataloging levels, and implementing a well-structured content organization.
We redesigned the information architecture for a clearer and more logical navigation. Additionally, we simplified the purchasing process to reduce steps and streamline the checkout, ensuring a smoother and more efficient experience for the users.
The solution
We conducted a comprehensive analysis of competitors and similar websites through benchmarking. We performed an initial evaluation of the existing marketplace, conducted in-depth research, and studied cases to propose improvements in the flows and processes of product search, identification, and purchase.
Our UX redesign work includes the homepage and department pages, showcase, product page, search features and checkout flow. Additionally, we created an icon and illustration system to provide clearer and more direct identification of departments and product categories.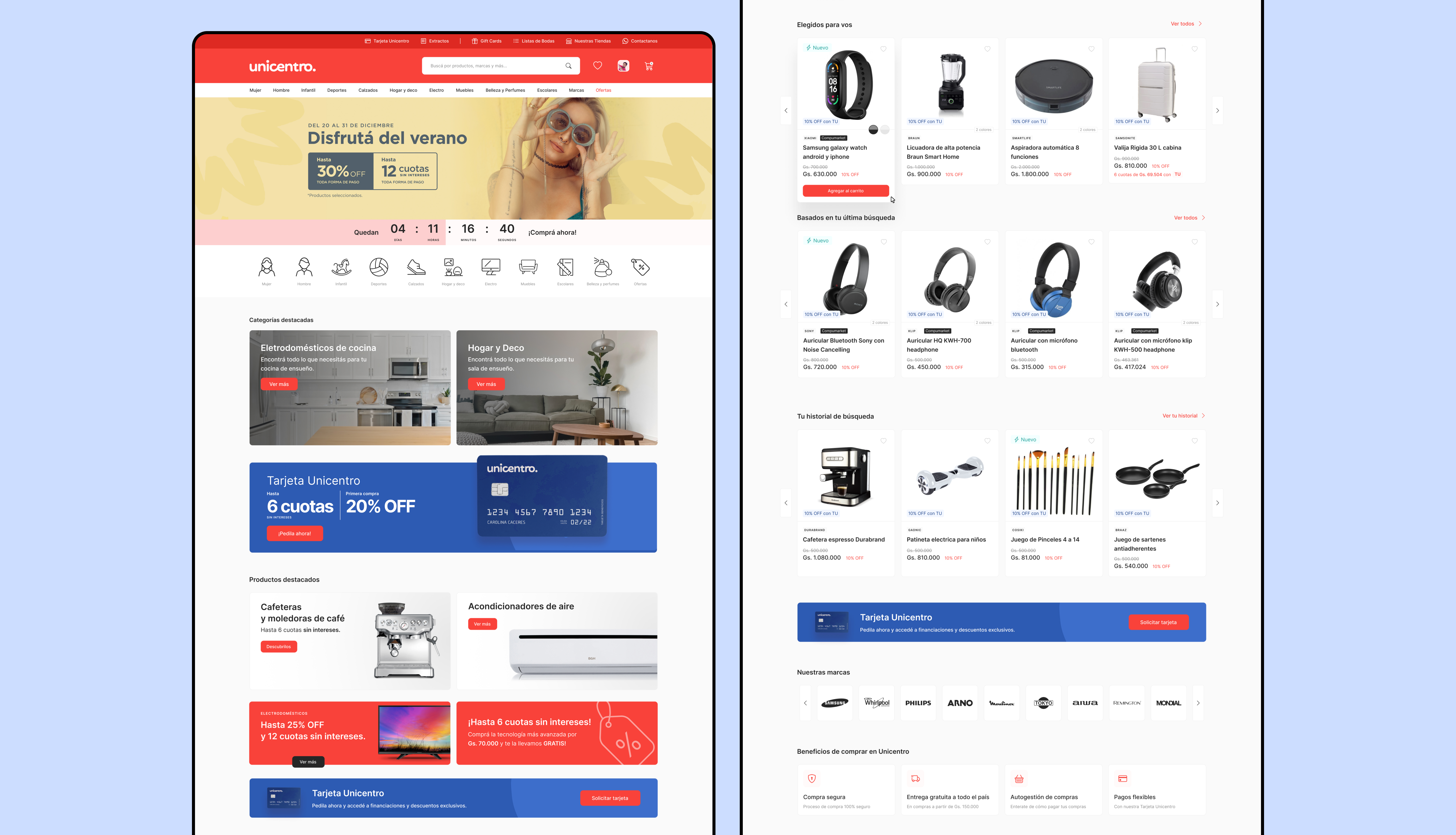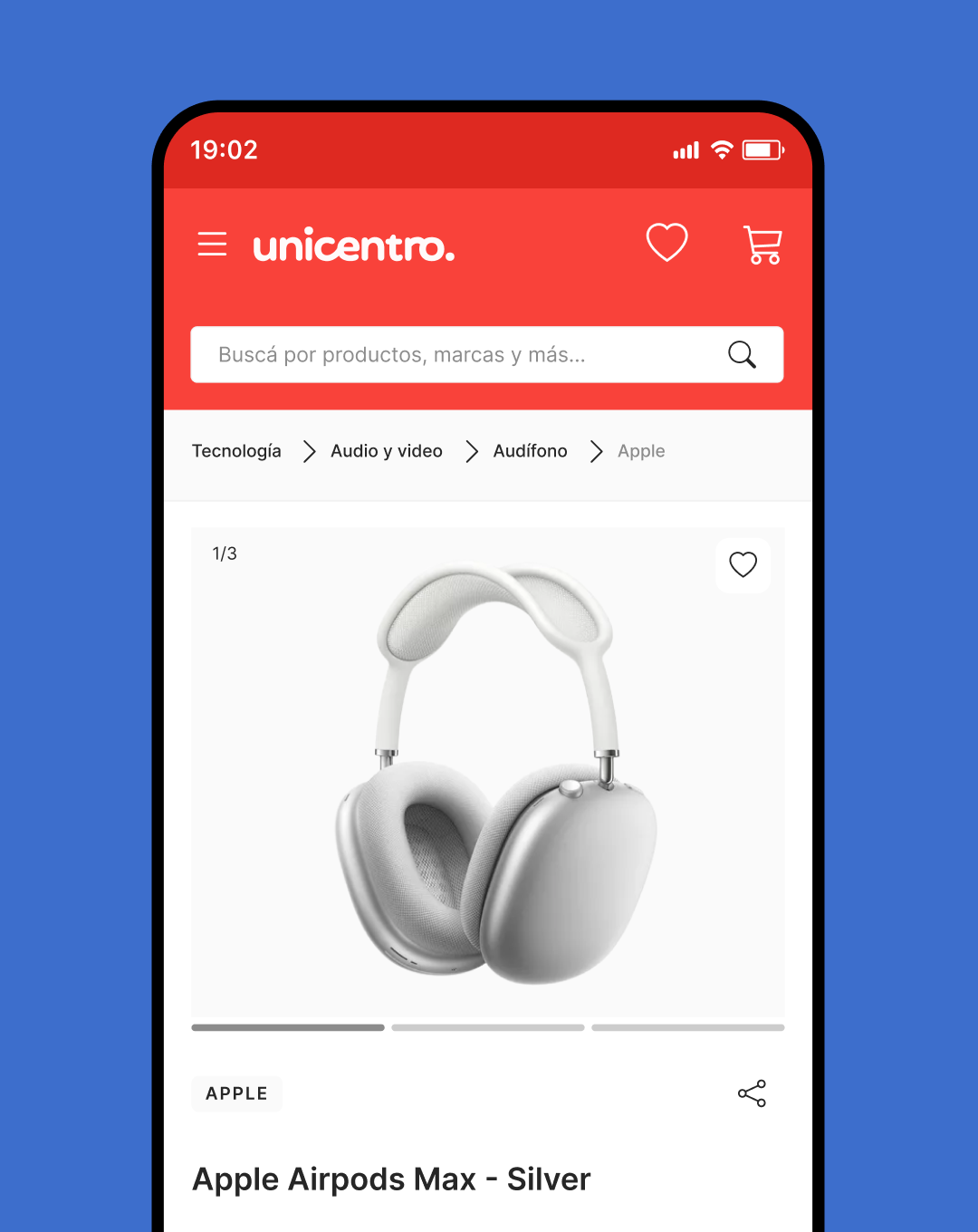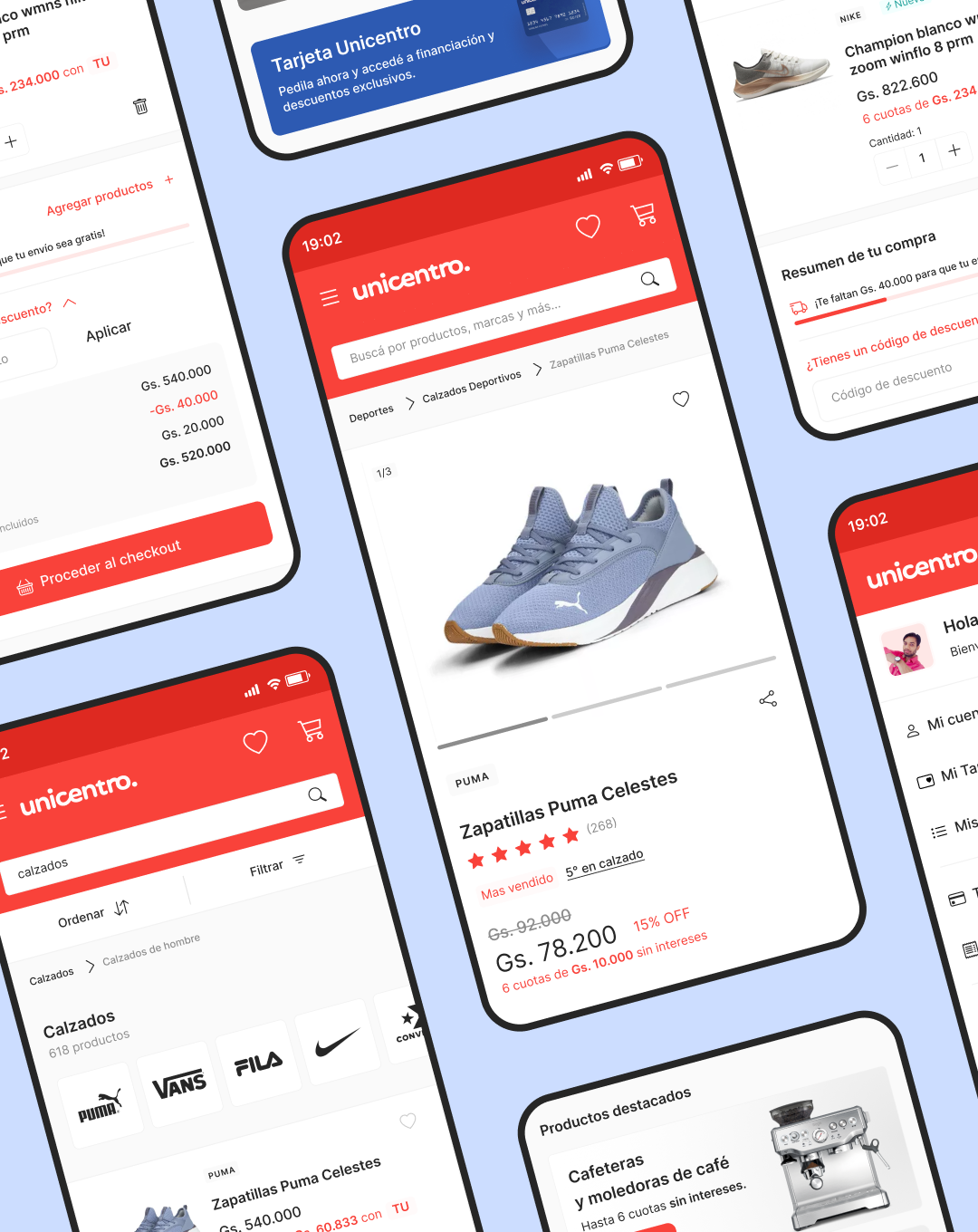 Building a strong experience.
We gained valuable insights to optimize the shopping experience by utilizing analysis and action mapping tools such as userflows, wireflows, and wireframes. Subsequently, we validated our proposals with the client, laying the foundation for the design process.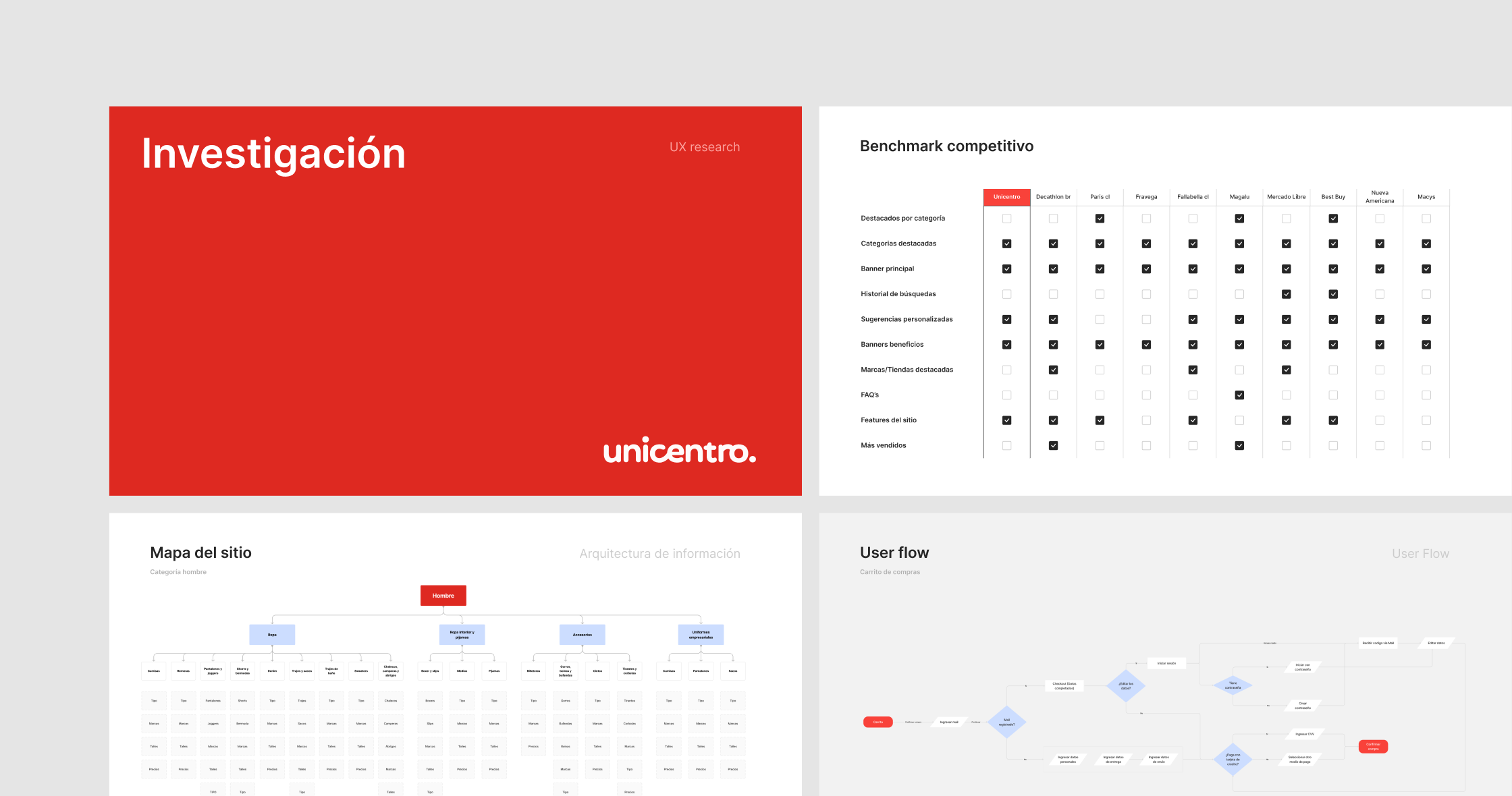 Improved clarity in navigation
and finding.
To enhance the product search experience, we developed a new structure based on departments, categories, and subcategories. Additionally, we proposed the implementation of multiple hierarchies to increase the search capabilities for each product.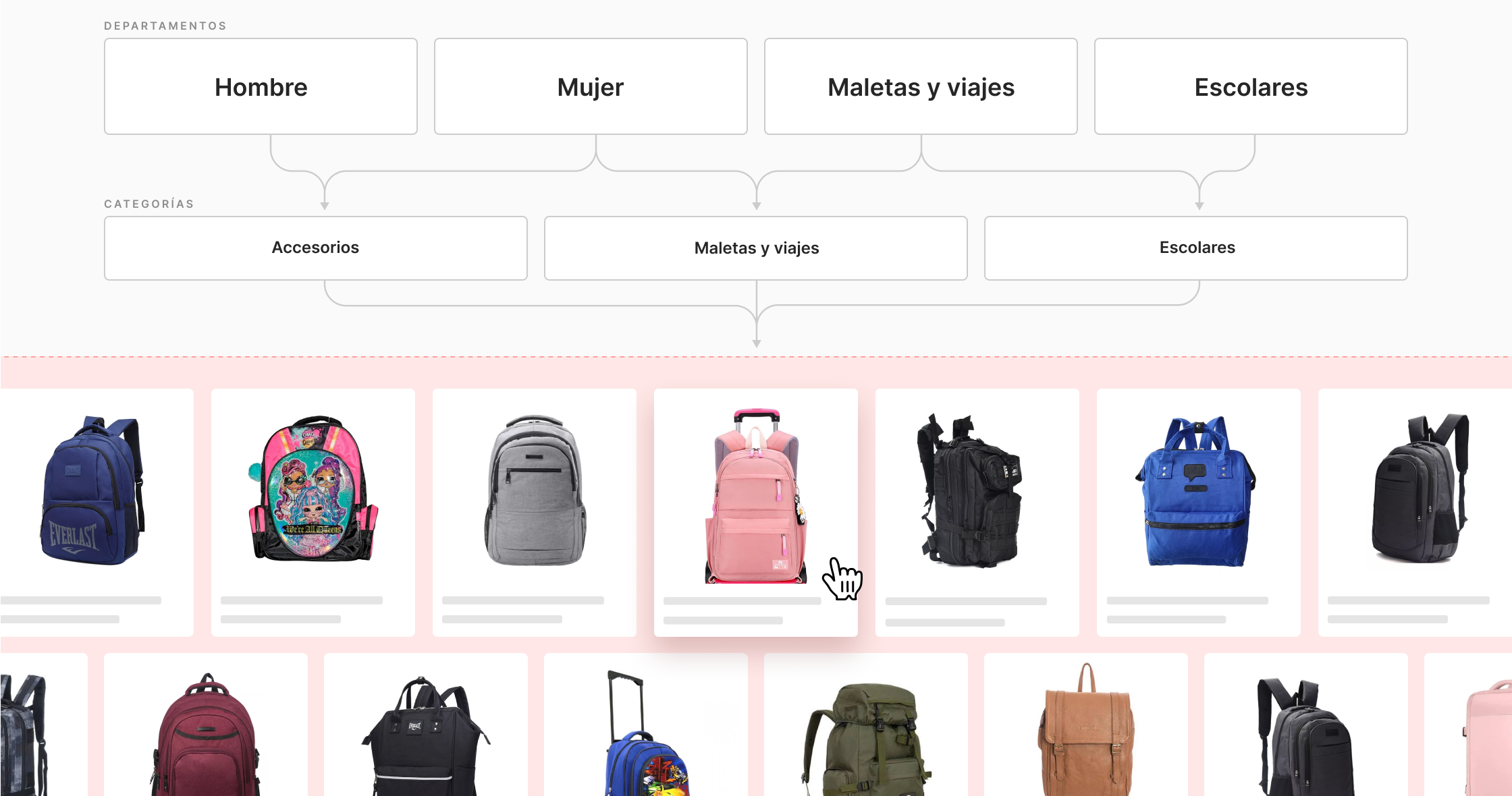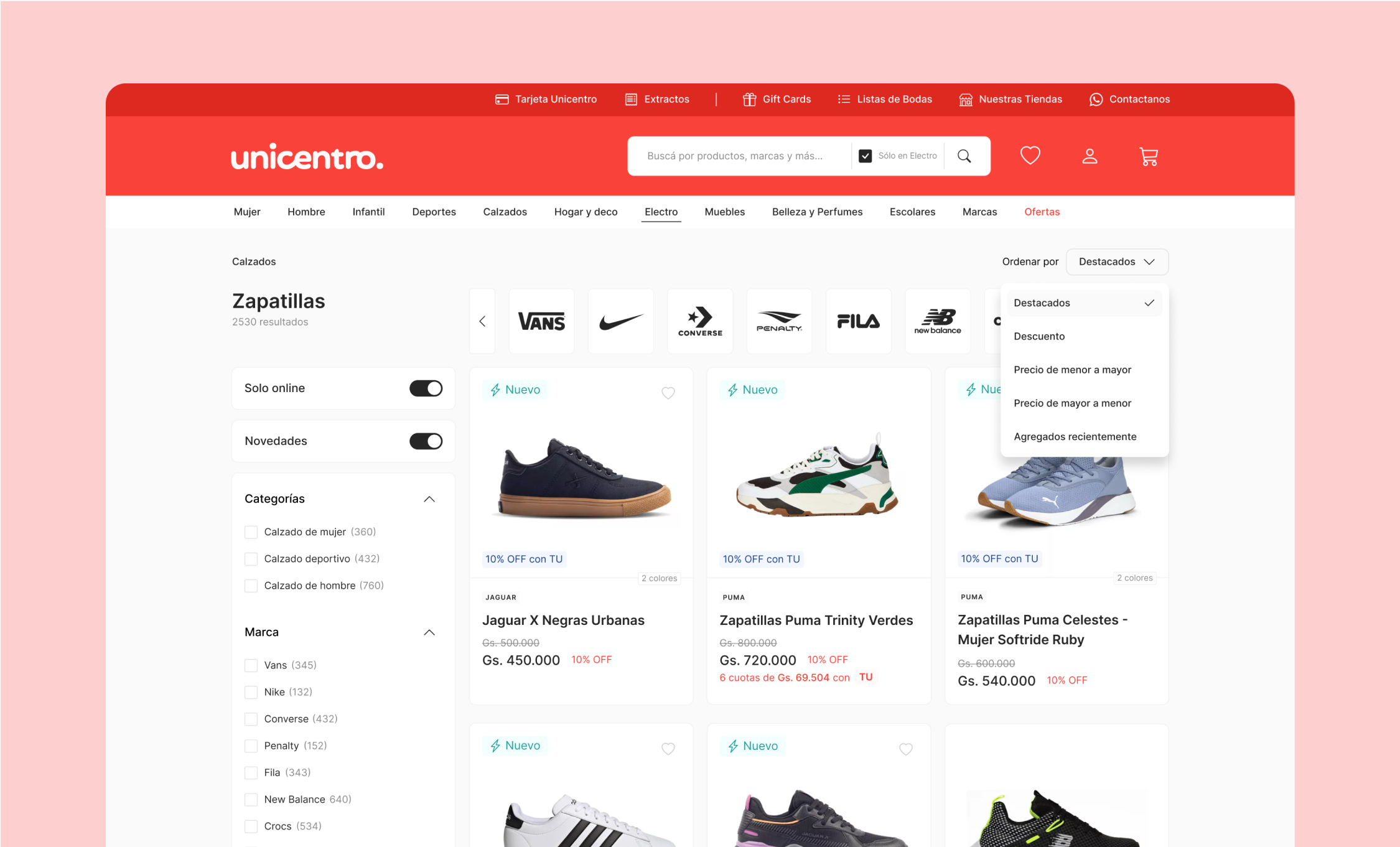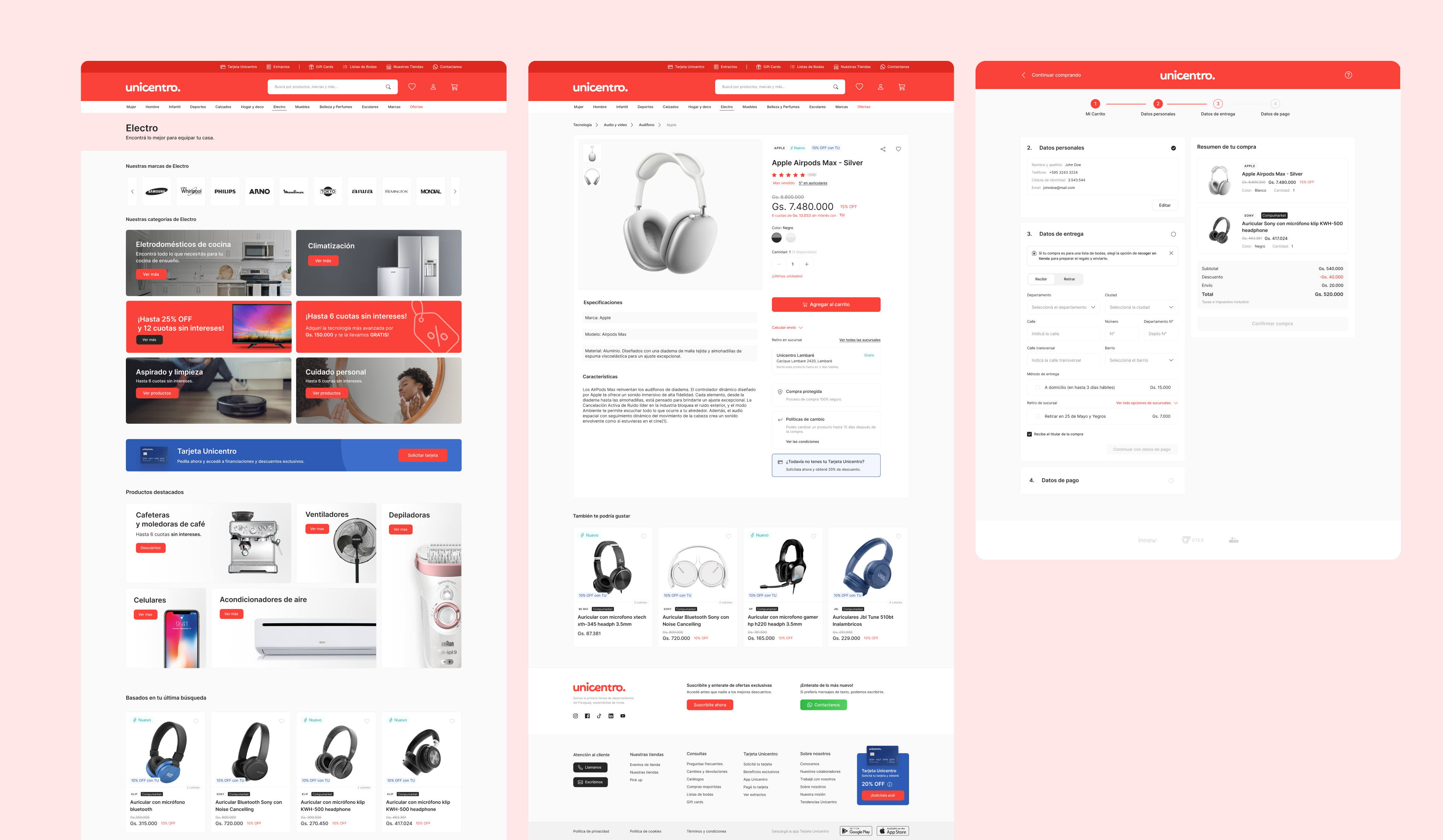 Enhanced and compelling
product cards.
With the new product cards, the customer will now have access to detailed information, including sizes, brands, available colors, and more. We have also added the option to save items as favorites and incorporated badges that display exclusive offers and promotions for Unicentro Card users. In this way, we not only increase the possibilities of purchase but also encourage customer loyalty.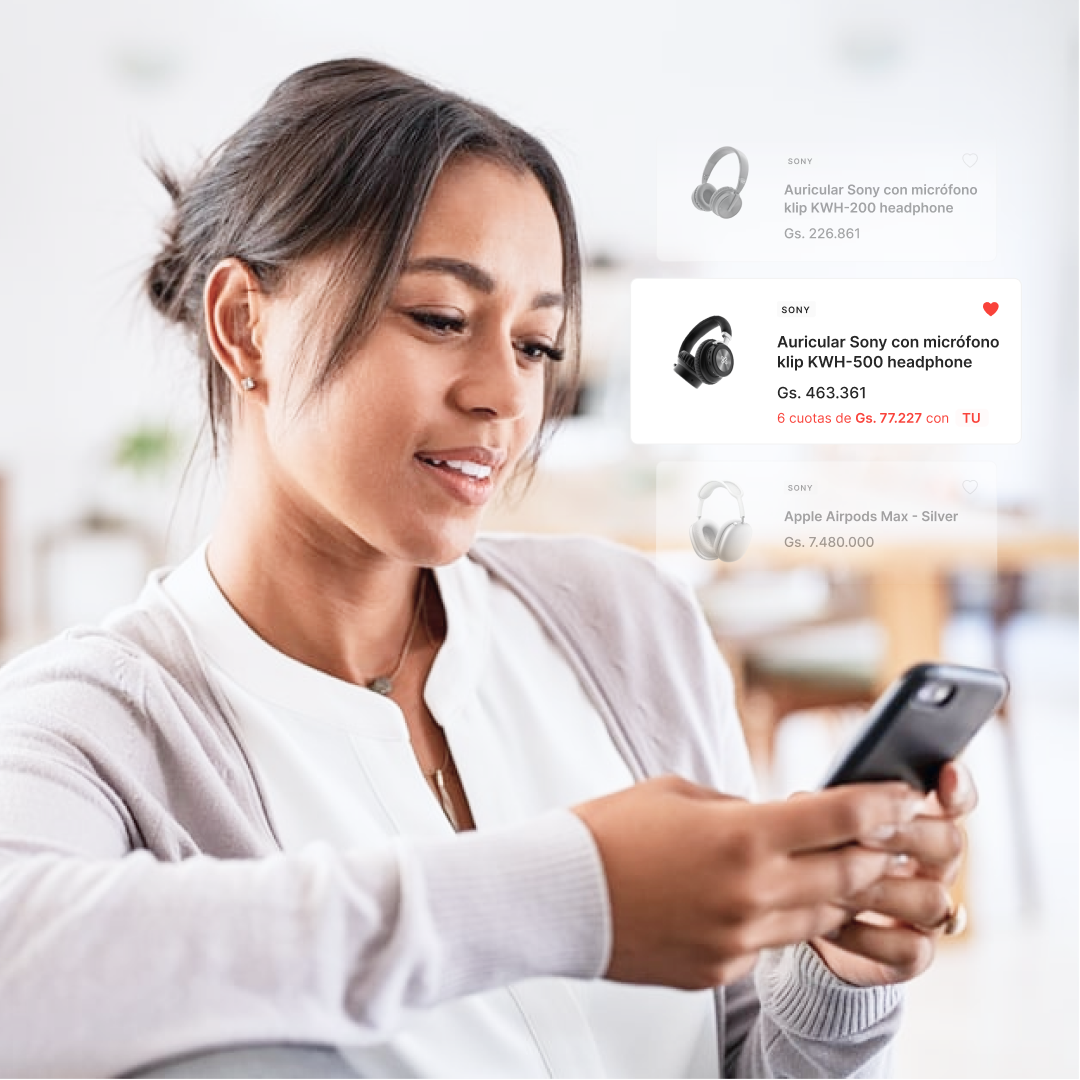 A more efficient purchasing process.
We completely redesigned one of the most critical points of the Marketplace. With the aim of minimizing checkout friction, our focus was on simplifying each step, reordering and redesigning its components and content blocks to provide users with an intuitive, secure, and personalized process that meets their needs.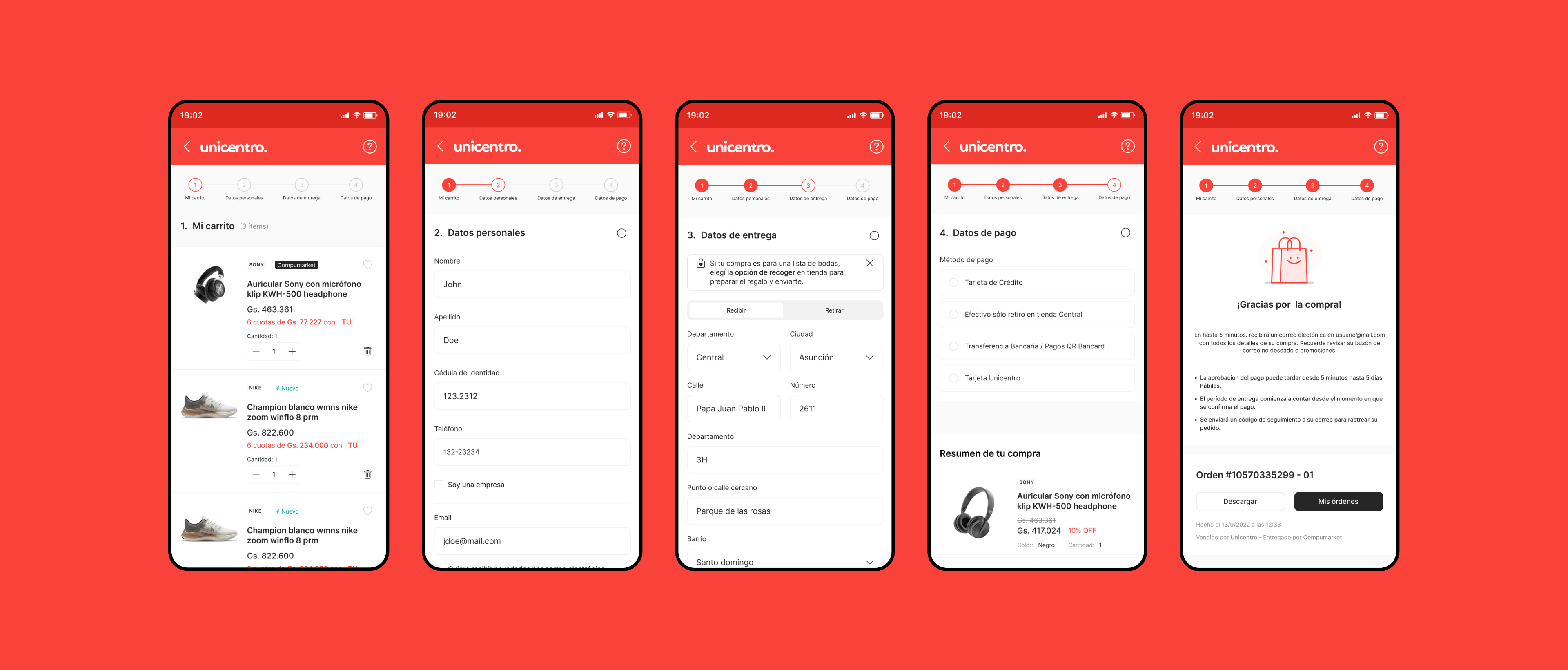 Unicentro's DNA
in every detail.
We enhanced the brand presence in every element of the marketplace, from the color and components to the typography. Each detail is carefully selected to convey a consistent and recognizable brand image across different events and seasons.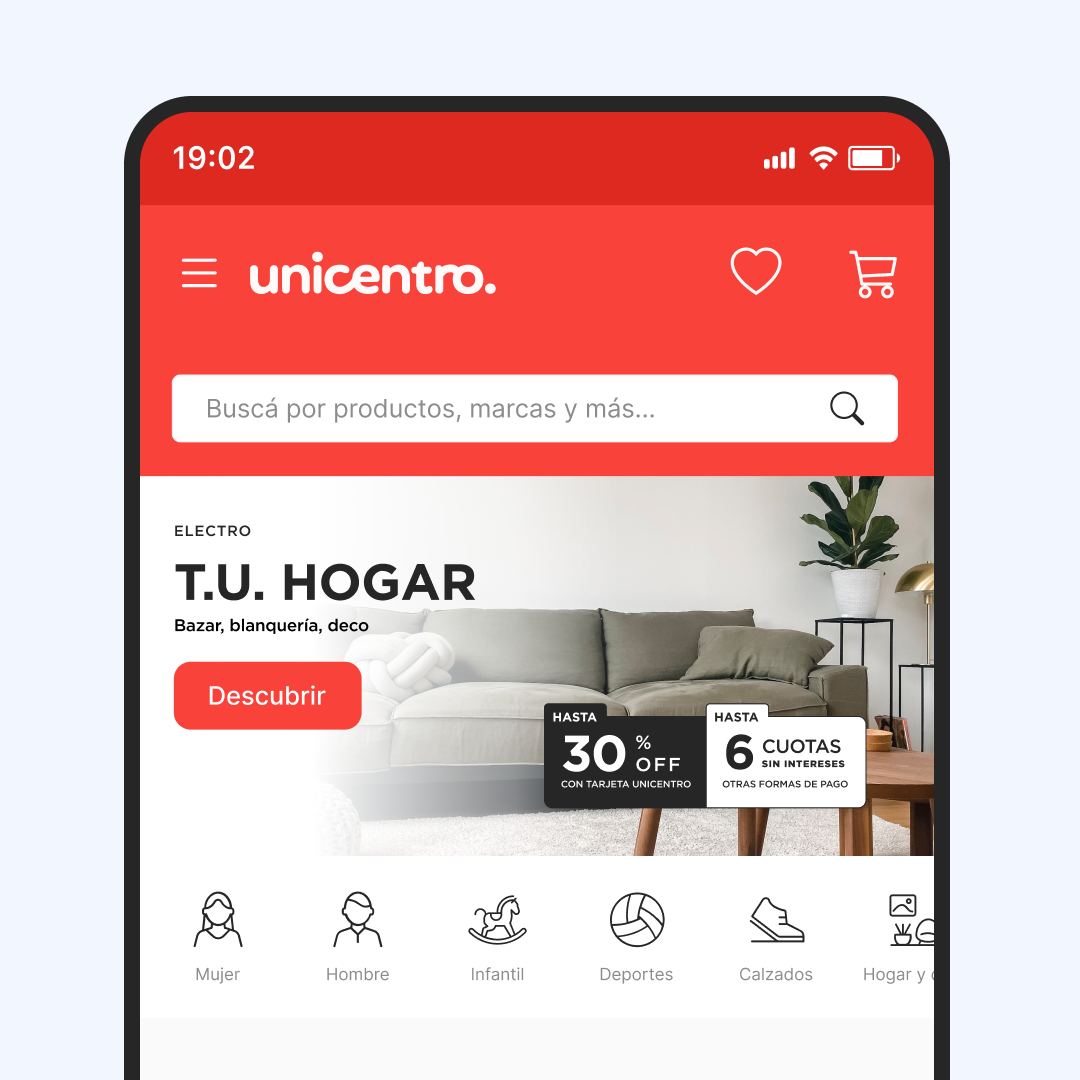 ---
Icons and Illustrations are incorporated.
The icon and illustration systems serve two functions. Firstly, they aid in the identification and memorization of Unicentro's departments, thereby enhancing navigation. Secondly, they allow the user to recognize significant instances and understand the company's communication more directly.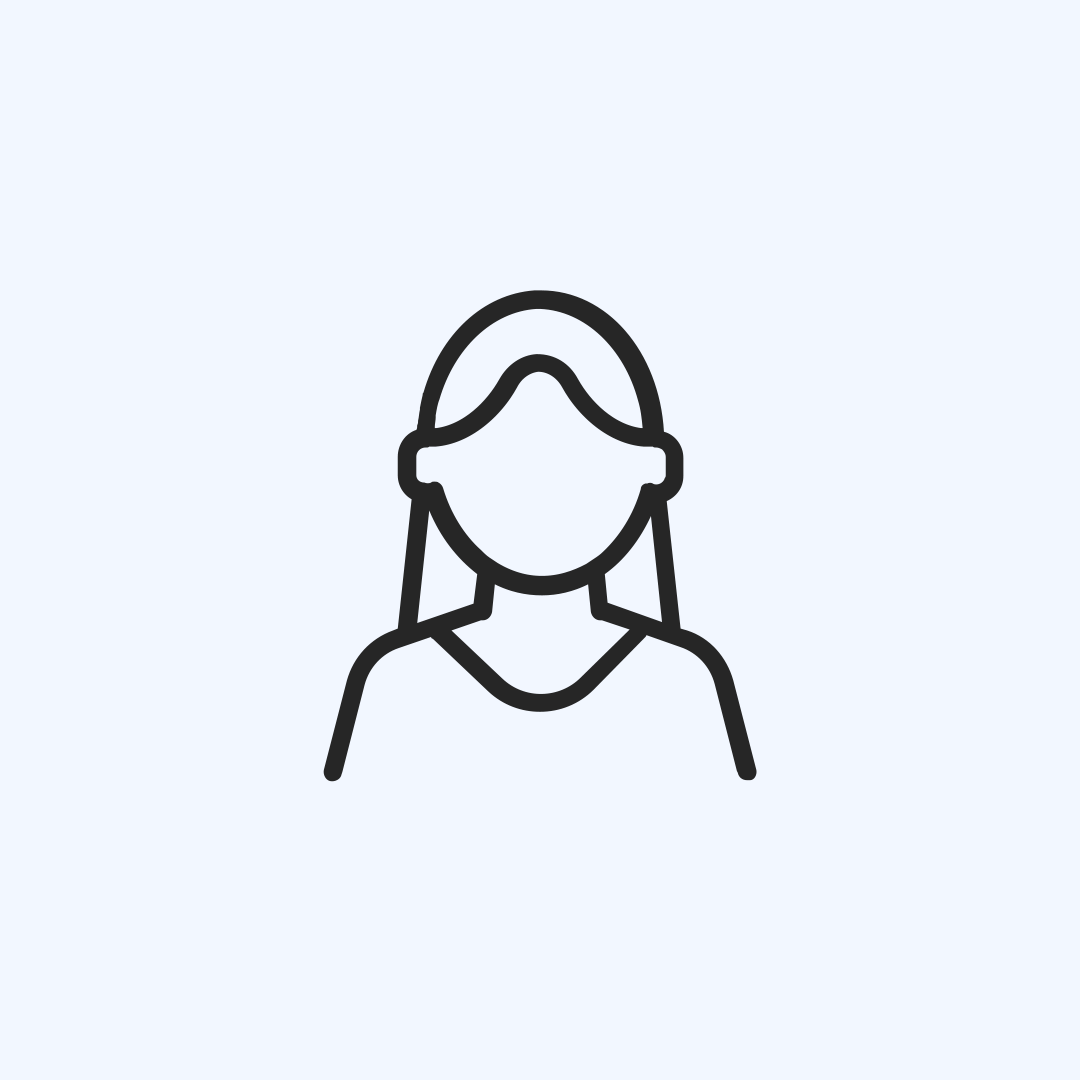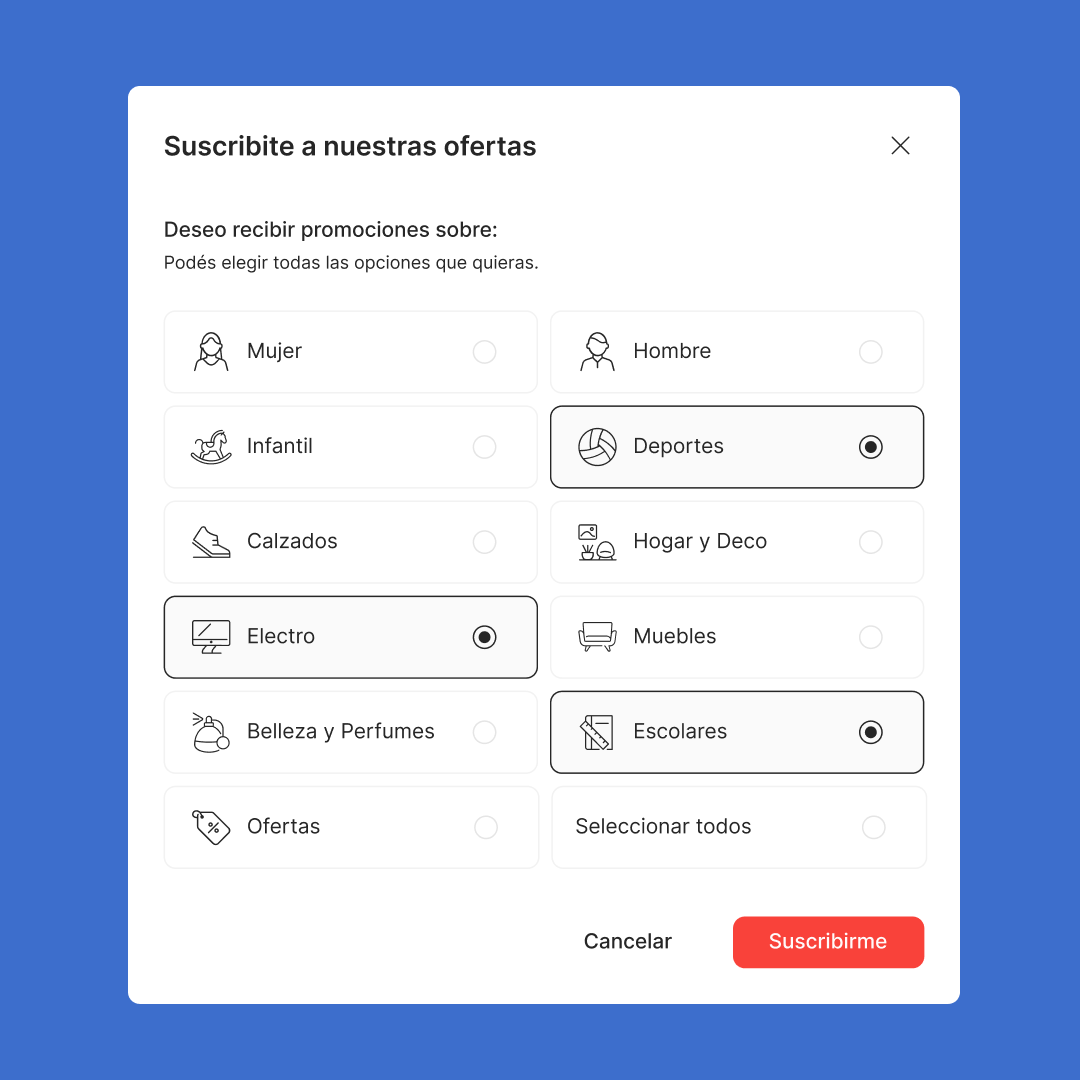 ---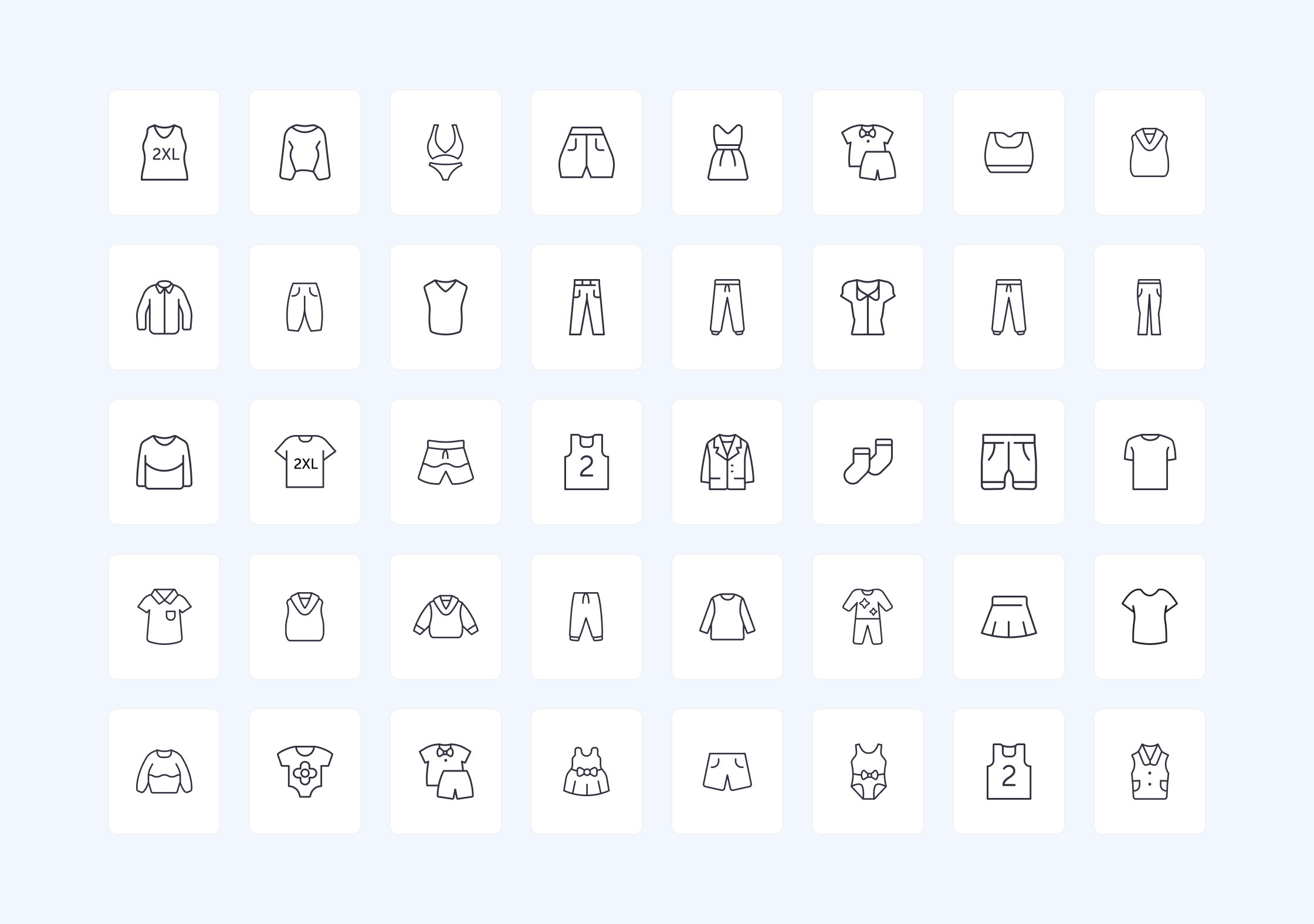 By illustrating non-positive situations for the user, not only enriches the experience, but the company also anticipates impulsive emotions at pain points, reducing the user abandonment rate.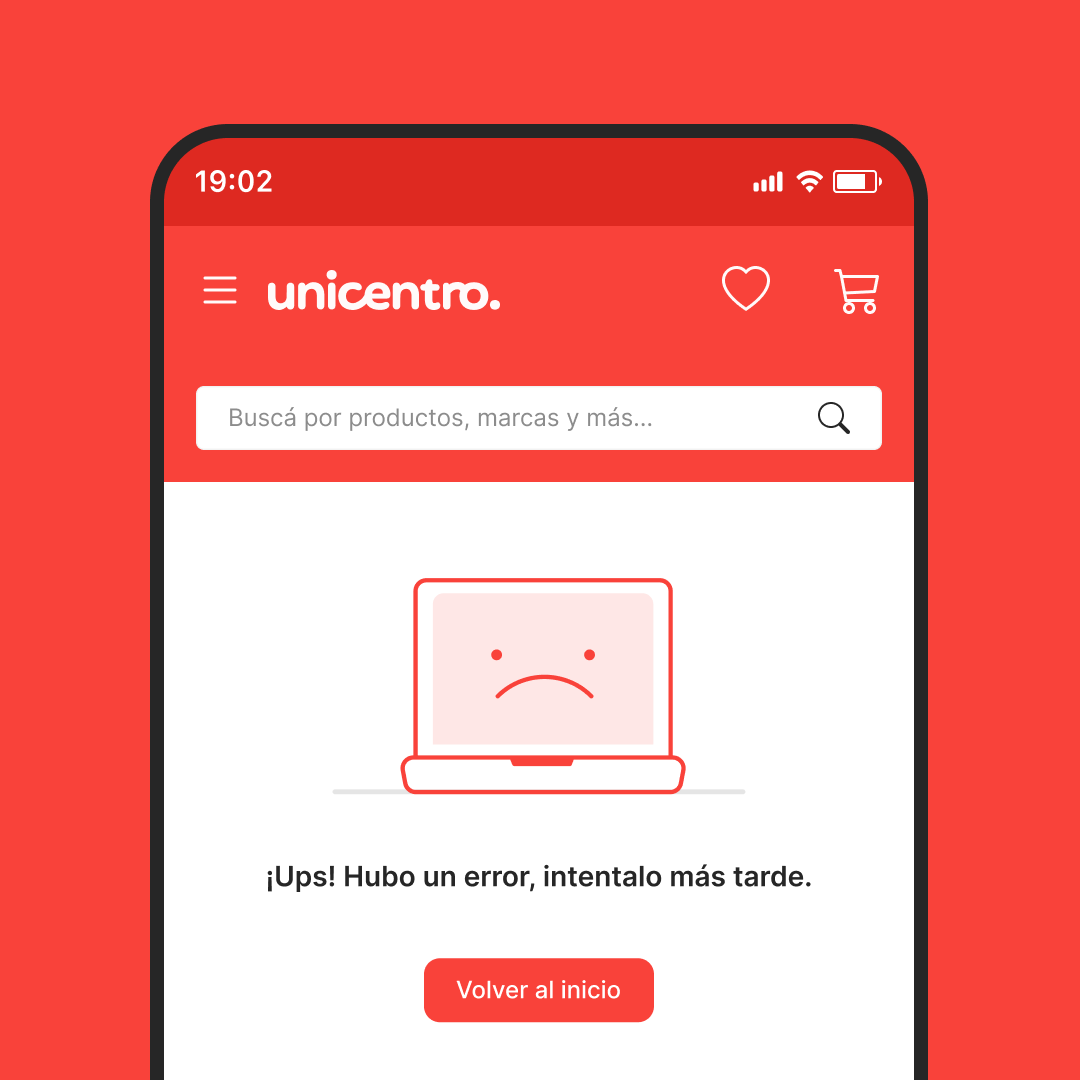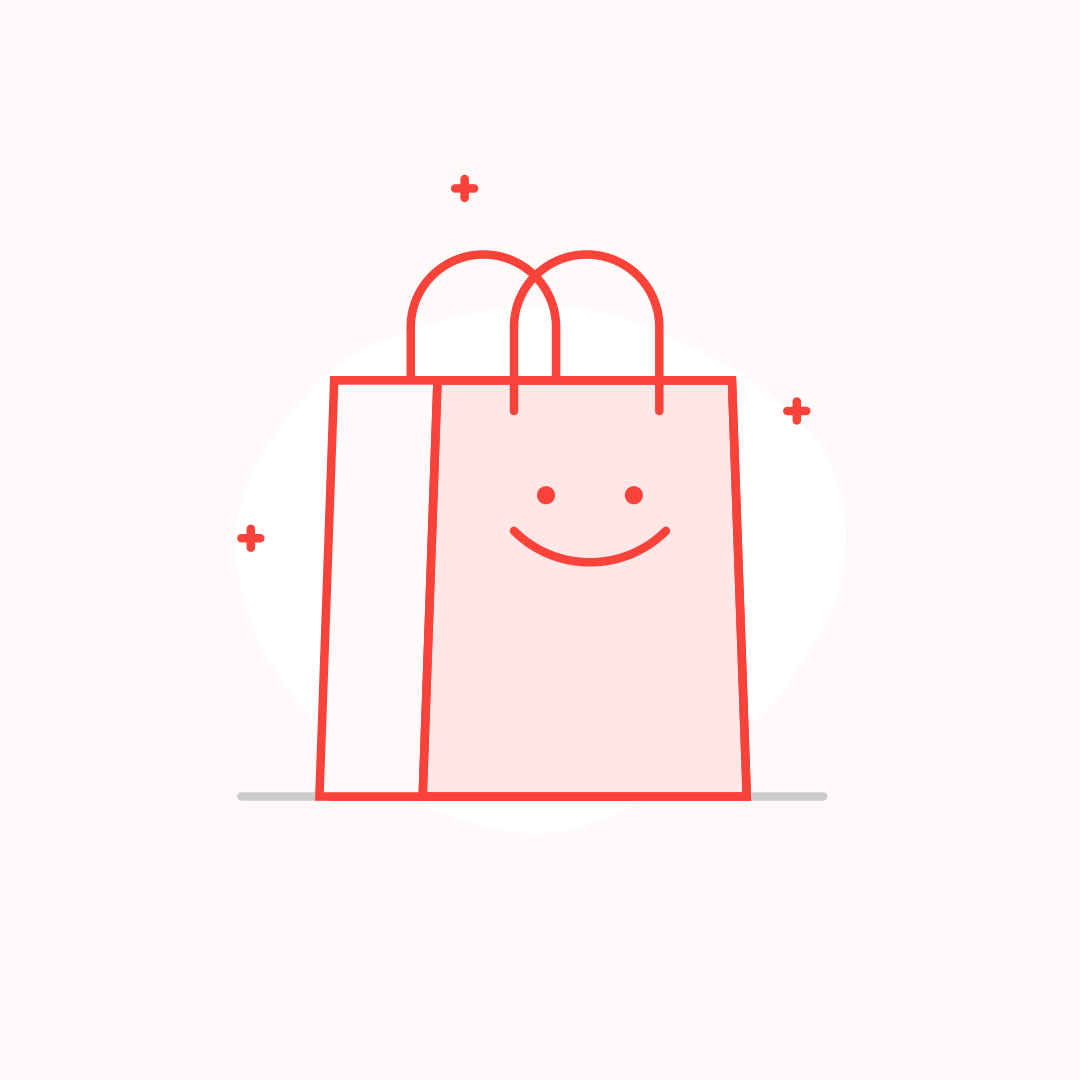 ---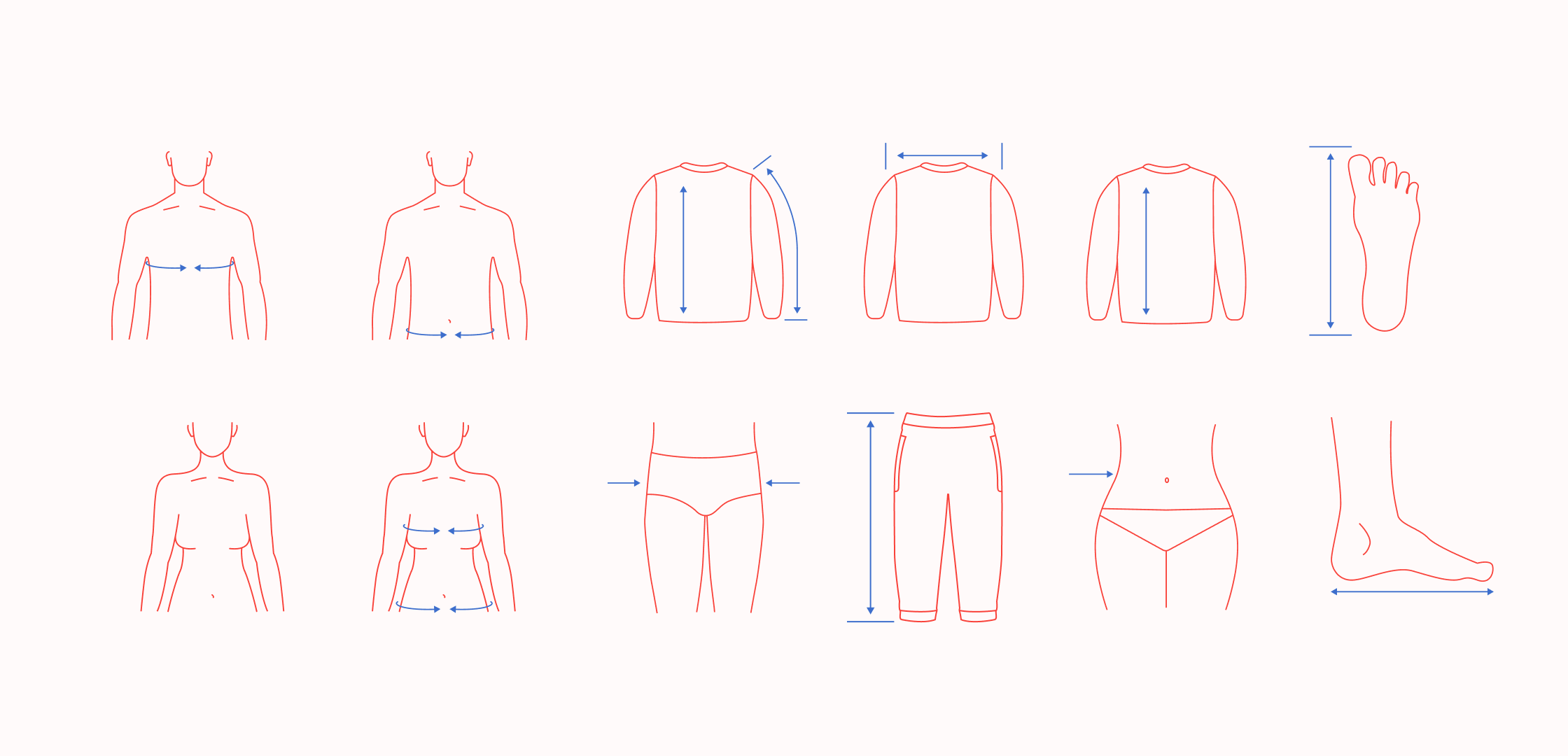 Initial results
After just 60 days since the website's launch, Unicentro experienced a remarkable uptick in key metrics, spanning from products added to cart to conversion rates, compared to the old website.
We continue to work closely with Unicentro on growing and optimising their website and creating new digital products.
+8.4%
Add to cart products
+20.4%
Product page views
3.75%
Avg. Engagement time
Awards and recognition
---
Winner eCommerce Awards Paraguay 2023 - Retail category
The process
Team
Project manager
Brand strategists
Brand designers
UX/UI designers
Motion designers
Illustrators
Empathy
User research
Competitive Analysis
User personas
Define/Ideate
Out solutions
User flows
Sketching
Wireframing

Prototyping
UI design elements
Design system
Icon system
Illustrations
High-fi prototype
Testing
Deliverables